Aggregates
Conveniently located on site, Stockwell Sand & Gravel, provides aggregate products for the ready-mix and construction industries on the Sunshine Coast. Our aggregates are manufactured to comply with the applicable CSA Standards.
We are a fully serviced gravel pit and major supplier of all types of screened, crushed & washed aggregate products.
From highway and road construction materials to ready mix concrete aggregates to architectural landscaping products, we are committed to meeting your construction and delivery needs.
We also provide custom services and products for our customers. Our specialized quarry and mining services include providing construction and landscape aggregates, contract crushing, screening, and excavation equipment.
One of our two dump trucks. Call Jordan at (604) 989-4953 for all dispatch inquiries.
Stockwell Sand & Gravel has a dedicated team of employees
who pride themselves on providing high-quality products
and superior service to all of our customers.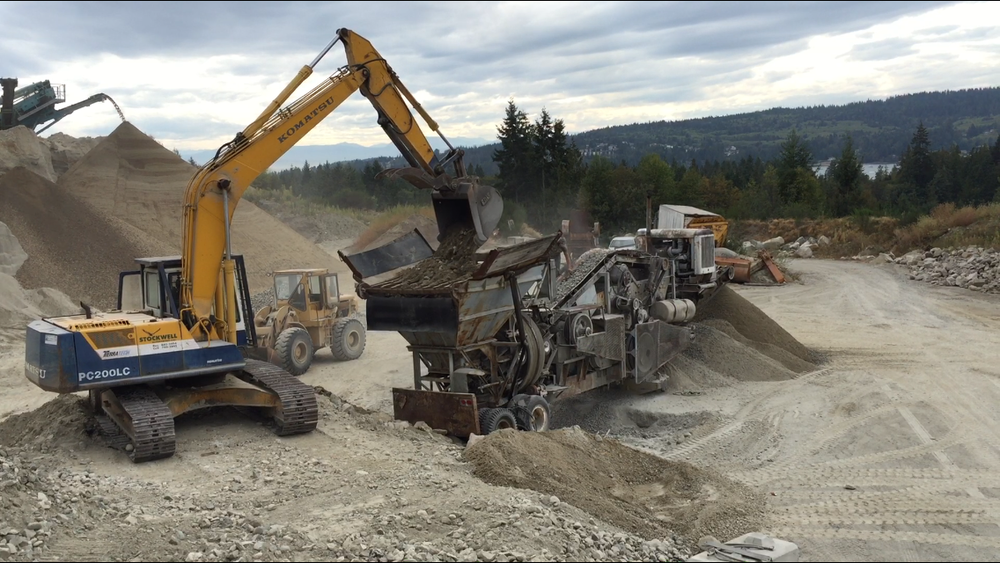 Our company offers an extensive product line, including aggregates for use in:
Landscaping
Subdivision Development
Construction
Road Building
Granular Fill Materials
Specialty and Custom Products
Processing rock to 25 mm road mulch.
Photo shows the screen plant in the background.
Our products are sold at wholesale prices and weighed by the tonne. We service everything from small trailers and pick-ups to large tandem dump trucks and end-dumps. Just let us know what you need.
Please call if you require delivery.
Stockwell Sand & Gravel
Inquiries, Orders and Deliveries
(604) 885-2435
stockwellgravel@gmail.com
– call Jordan at (604) 989-4953!